Plugin Settings
Once activated, the plugin create a settings menu within the Superadmin Dashboard interface at Settings > WooCommerce Global Cart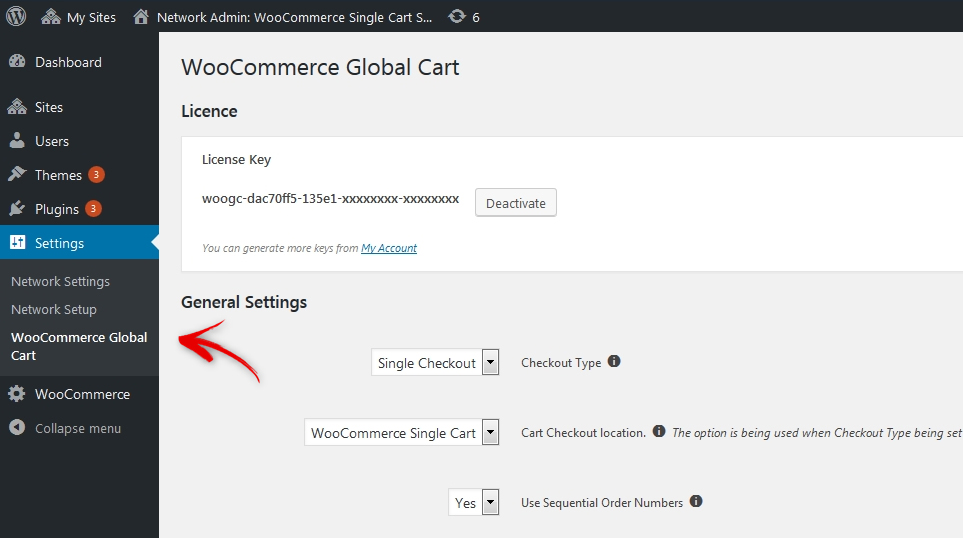 This is accessible only to Superadmin users. This is the location through which different plugin aspects can be changed.
As the cart works as a global recipient for all shops in the network, this imply few potential perspectives for the checkout, to match the network owner requirements. There are 2 main options for this setting Single Checkout and Each Store.
The Single Checkout, consist on a single check-out process which collect the payment in full for all products in the cart, even if they are from different shops in the network. The checkout process goes at a specified site (see the other options) or can be up to customer where he prefer.
The Each Store check-out type, collect the payment separately for all sites which include a product in the cart. After check-out process, each shop receives own payment and own order for the global cart. There is no limitation regarding the payment method, each store can set it's own set-up regarding the payment gateways.
This setting control the location of Checkout. Once customer add products to cart from different shops, eventually process to checkout. A Checkout process can be done either at any shop or at a specific location. Is up to administrator preference to set this for an option or another. When checkout completed, a new order is being created. This will be append to the shop where the checkout process has been completed. If the Cart Checkout location is being set for a fixed shop, all orders will be created in the same place.
This option is being used when Checkout Type being set as Single Checkout.
Sequential Order Numbers is a way to maintain consecutive ids for orders across network, independently from shop where order has been placed. This is recommended to always use when Checkout location is set for a specific shop.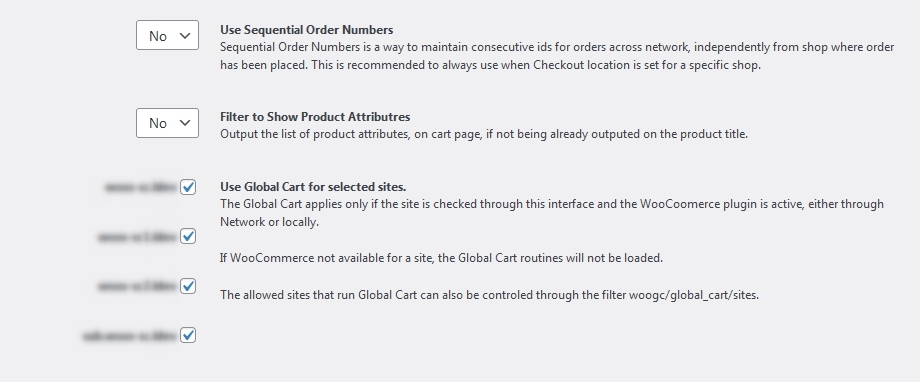 Use Global Cart for selected sites
The Global Cart applies to selected sites in the list. The WooCommerce plugin is required on the designated shops.
If the WooCommerce plugin is missing or temporarily unavailable for a specific site, the WooGlobalCart will skip the shop.
Individual shops can be disabled also through the programmable filter woogc/disable_global_cart